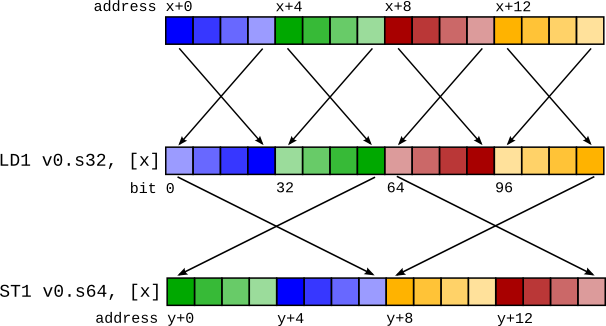 The main problem with the LD1 solution is dealing with bitconverts (or bitcasts, or reinterpret casts). These are pseudo instructions that only change the compiler's interpretation of data, not the underlying data itself. A requirement is that if data is loaded and then saved again (called a "round trip"), the memory contents should be the same after the store as before the load. If a vector is loaded and is then bitconverted to a different vector type before storing, the round trip will currently be broken.
Take for example this code sequence:
%0 = load <4 x i32> %x
%1 = bitcast <4 x i32> %0 to <2 x i64>
     store <2 x i64> %1, <2 x i64>* %y

This would produce a code sequence such as that in the figure on the right. The mismatched LD1 and ST1 cause the stored data to differ from the loaded data.
When we see a bitcast from type X to type Y, what we need to do is to change the in-register representation of the data to be as if it had just been loaded by a LD1 of type Y.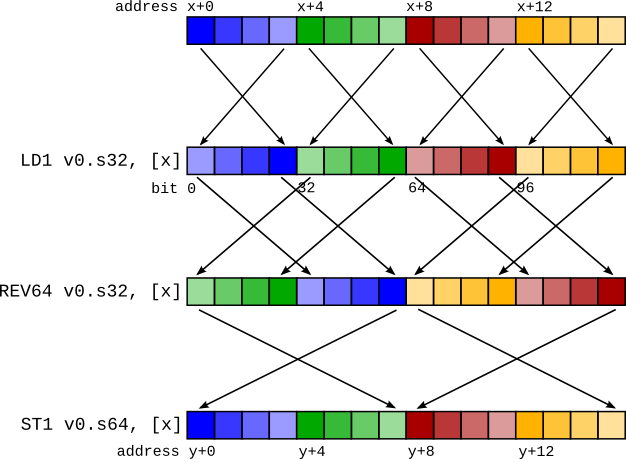 Conceptually this is simple - we can insert a REV undoing the LD1 of type X (converting the in-register representation to the same as if it had been loaded by LDR) and then insert another REV to change the representation to be as if it had been loaded by an LD1 of type Y.
For the previous example, this would be:
LD1   v0.4s, [x]

REV64 v0.4s, v0.4s                  // There is no REV128 instruction, so it must be synthesizedcd
EXT   v0.16b, v0.16b, v0.16b, #8    // with a REV64 then an EXT to swap the two 64-bit elements.

REV64 v0.2d, v0.2d
EXT   v0.16b, v0.16b, v0.16b, #8

ST1   v0.2d, [y]

It turns out that these REV pairs can, in almost all cases, be squashed together into a single REV. For the example above, a REV128 4s + REV128 2d is actually a REV64 4s, as shown in the figure on the right.